Galactus (Acey)
From Infinitywiki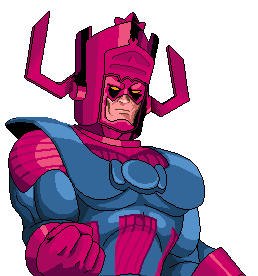 By Acey
Date Released: March 3, 2008 (Infinity 2008 Release Party)
Sprites: Acey
Programming: Acey
Current Version: 1.2 Gorjeador, during his brief time in Mugen, created Galactus from a single sprite that came from a comic book scan. Unfortunately there was a bug in the code so that no one besides experiences programmers could get him to work in their mugen. After contacting Gorjeador about completing this character, his original sprite was edited into the MvC style and a series of other sprites were created. Lastly the character was reprogrammed to act as a sub-boss for the Marvel vs. Capcom: Eternity of Heroes game before being replaced by a newer Galactus.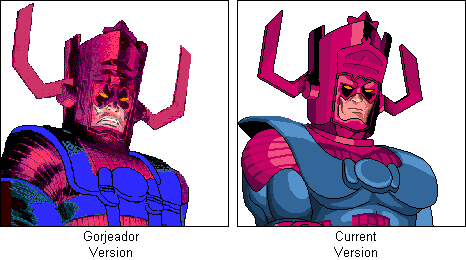 Character History
Galan, a space explorer from the planet Taa, may be the sole survivor for an ancient universe preceding the "Big Bang" that created ours. As his world and universe was destroyed he accepted the chance to become part of the being Eternity. Following the creation of our universe Galan emerges as the cosmic being, Galactus. He now travels the Universe, devouring life-sustaining planets, utilizing heralds who search out the worlds to be destroyed, and Elemental Converters which turns the
Creation History
planet's life sustaining ability into nourishment for the "Devourer of Worlds" known as Galactus. Galactus now represent Equity as one of the three faces of the Living Tribunal along with other eternals, Eternity and Death.
Attacks
Normal Moves
LP = Tornado
MP = Time Tunnel
HP = Explosion
Special Moves
Down, Forward, LP = Earthquake
Down, Forward, MP or HP = Meteroite
Down, Forward, Kick = Electric Pluse
Download