Dark Talbain
From Infinitywiki
DARKTALBAIN is a retired member Team Spoiler & current Infinity Mugen Core Team Member
Biography
Sex: Male
Age: 31
Position: Mugen Creator
Favorite Anime: Guyver or Saber Marionette J
Favorite Character: Guyver 3
Favorite Superhero: Batman & Spawn
Favorite Comic Artist : Todd McFarlane
Favorite Comic Writer : Alan Moore
Favorite Mugen Creator : Loganir
Current Status : Online ... lol
DARKTALBAIN REBORN
The Dark One concept was invented years ago . I used to use this screen name on PS1 forums . It all started because Talbain was one of my favorite capcom characters . But I was a huge Mortal Kombat fan . I always wanted to see a version of Talbain that was " dark " & had fatalities . I would call him DARKTALBAIN . I guess here's my chance to create him with mugen . Anyway I discovered mugen & used a different name . I was a " noob " & you all know how it is being new to this community . You pretty much get treated terrible . So I started working on creating characters since I've always been very artistic & came back to the community as " DARKTALBAIN "
DARKTALBAIN JOINS IMT
On January 1st 2009 DARKTALBAIN decided it was time to go in a new direction in the mugen community . DT really didn't know which way he was headed , all he felt is there was some creative differences in Team Spoiler & felt he needed to follow his own path . Not knowing where it would lead him , he left Team Spoiler . there was no animosity or hard feelings between his ex team mates & him . He just felt he was chasing something else & didn't really know what . Then March 31st 2009 rolled around & DT figured it out . He got a Pm from one of the administrators of a large forum & a force to be reckoned within the mugen community . Acey asked DT if he wanted to become a part of the core team of Infinity . DT actually thought it was a joke , being so close to April 1st . To make a long story short Acey convinced DT that it was not a joke & DT graciously accepted . April 2nd the announcement was made that DARKTALBAIN was officially part of the IMT core . This is a great team with a lot under their belt in this community & more promise . Look for many great creations from all of these individuals in the future .

Youtube http://www.youtube.com/user/DARKTALBAIN
You can check out all DARKTALBAIN's latest WIP's on youtube
MUGEN
DARKTALBAIN has relesed Hobgoblin for mugen & Wolvenom is about to hit .
---
Released Content
Beta Character: Hobgoblin
First release .... Sprites By DARKTALBAIN code by Acey
Updated ..... Sprites by DARKTALBAIN and code added by Susan Mugen
Hobgoblin was DARKTALBAIN's first character . DT didn't really have a clue on how to create a mugen character , but he did have one thing going for him . Permission from Acey to edit Green Goblin . During the process of creating Hobgoblin , DT joined Team Spoiler . With help from JASONTODD & Alexziq , they helped him grow as a creator . Hobgoblin was released October 31st 2007 , but he was still a carbon copy of Green Goblin . Then DT came across Susan Mugen . She was the answer to his prayers . Her phenominal coding skills helped turn Hobgoblin into a character that had more individuality from Green Goblin . Susan & DT worked together & released an updated version of Hobgoblin July 4th 2008 .
DT still hears complaints about the sprites that they do not look MVC enough . The concept from the beginning was to make Hobgoblin look like he jumped out of a comic book . A Todd Mcfarlane comic book . I think he pulled that off pretty well .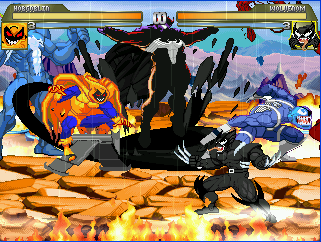 Beta character: Wolvenom
Super EOH character 12/31/08 Sprites By DARKTALBAIN code by Zvitor
Actual individual mugen release & future Super EOH versions Sprites By DARKTALBAIN code by Sabaki

Wolvenom actually started at as Hybasuku's WIP . He was a noob who didn't have a clue as to what he was doing & DT tried to help . He made a couple of sprites as an example for the new creator . The new creator just wanted DT to make this character . DT grabbed the bull by the horns & went full steam ahead spriting Wolvenom. Not knowing that their were some other unfinished WIPS of this same chracter . Once he found out he still decided to go ahead & make this character " his way " Once again DT has proven with his custom animations & sprites that he is here to stay . Wolvenom Originally hit the scene in December of 2008 , but was exclusive to IMT's super EOH moleboxed game . That version was coded by Zvitor in about 4 days just to make it for the project . The individual release for mugen came later at the IMT release party May 2009 . The individual release was coded by Cray/Sabaki . This time around more time was put into the character & he was coded from scratch . Many of DT's missing sprites were now used . This new version will be the one used in future installments of EOH . Look for updates in the future , because there is more to be added to Wolvenom .
Early Beta stage: Symbiote Apocalypse
With alot of help from Boris . DT released a stage to go with Wolvenom . The Symbiote Apocalypse is a very early beta . None of the symbiotes in the release were anumated yet due to time restraints & the release schedule . Look for updates of this stage in the future .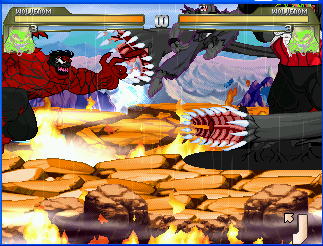 All of DARKTALBAIN's releases can be found at the Infinitymugenteam forum
---
Unreleased W.I.P's
WIP character: Medieval Spawn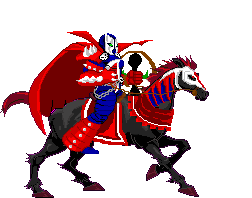 DT wanted to create a Spawn character desperately . There seemed to be alot of controversy revolving around the Spawn character for mugen . Since ER created one, but never finished him . DT didn't want to be involved in any drama , so he decided to go another route . Medieval or Dark Ages Spawn was his favorite Spawn anyway . Some Captian America sprites started to be drastically altered & he was born . DT wanted him to go with the current ER Spawn , so some of ER's style was mimicked for the character . This character ismore in the MVC style . From what DT showed with his custom animations & sprites , he began to prove himself as the " real deal " as a mugen creator . Medieval Spawn is still in the works .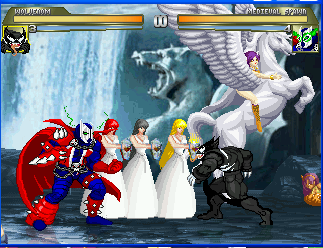 WIP character Batman Beyond
DT's former team mate alexziq & Spiderbat is actually making this WIP . He was asked by them to help out . So he sprited the Batman Armor hyper . DT got a new toy , a Wacom Intous 3 graphic tablet . For those not familiar with this item , It's basically a tablet that comes with a pen utensil . You draw on the tablet & it appears on the screen . DT figured this would be a perfect chance to try out his newly acquired mechanism for spriting . Here's the results .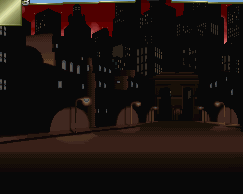 WIP GRAVEYARD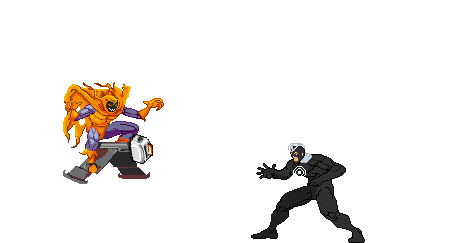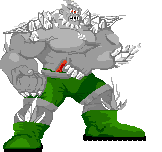 Doomsday was supposed to be DT's second character . Due to hard drive problems & much work being lost . This project was scrapped .
Harley Quinn was actually DT's first spriting experiments along with Poison Ivy & Black Canary . But , he started Hobgoblin as his first character & since then another Harley has been released . These sprites were actually redone later , when DT thought he was going to have to make this character anyway . So most likely This version of Harley will never see mugen .

CREDITS
Spawn & Medieval Spawn are trademarked McFarlane productions , all rights reserved
Doomsday & Harley Quinn are trademarked DC comics , all rights reserved
Hobgoblin , Wolverine & Venom are trademarked Marvel Comics , all rights reserved
This is fan based art & no profit is being made from these characters
PREVIOUS AVATARS

TEAM AVATARS