---
Happy New Years all. It has been a long road so far. Infinity has made it past the 10 year mark, which very few expected to happen 10 years ago. Back in the summer of 2006 Infinity was founded and we have continued to grow and change over the years. Since that time I've had 3 kids, worked for 3 companies, completed 2 college degrees and obtained one Master Sword. Most of you had been on this same journey with me and I want to say thank you for being a friend.
I'm often faced with choices on how to spend my time. Being married with 3 kids, I spend a lot of time with my kids reading, defeating video game, engineering with Legos, Pokémon hunting, creating music, discovering new adventures and learning together. I love that my children share my interest in Marvel, Harry Potter, Nintendo games and so much more. I'm so grateful and proud to work hand in hand with my spouse, raising our beloved little ones.
We have a book we read called "Love You More" where a father and daughter compete about who loves the other more. One says "I love you more than there are flowers in the garden" and it escalates more and more, "I love you more than there are grains of sand on the beach." It ends with "I love you more than Infinity." The first time I read that years ago I realized it was true, and it meant more than the incomprehensible principle of Infinity. I meant my group of friends here who I have spent so much time with. Dozens of characters and stages later, I feel very content on where I am with my life.
I would like to share with you Leonardo. I've been wanting to work on custom sprite Ninja Turtles ever since I first started with Mugen. I had hoped to complete all four of the turtles by December (and much more), but I didn't, and I know exactly why I didn't and I don't feel bad about those choices. In time I'll finish the next one.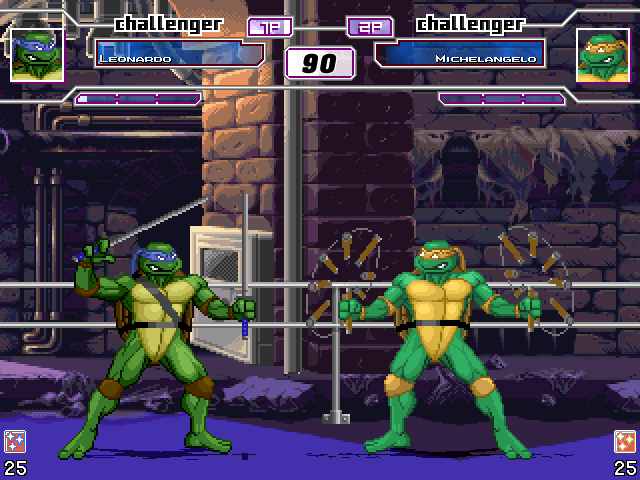 Please enjoy Leonardo. I really do. Go for that 40 hit combo!
You are not allowed to view links.
Register
or
Login
You are not allowed to view links.
Register
or
Login